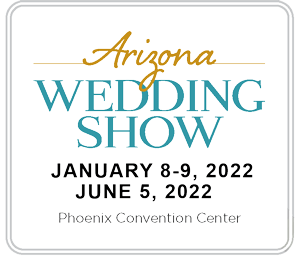 Put YOUR literature* into EVERY bride or groom's hands the moment they walk in the door! Provide us with your literature and we will stuff it into a bag that each bride or groom will receive at the entrance to the show.
* Limit one 8.5" x 11" (or smaller) unfolded piece of literature per paid exhibitor. NO catalogues. Literature may not contain any non-exhibitor information. All literature must follow all delivery instructions and deadlines in order to be included.
January 2022

TWO DAYS ONLY!

7,500
ATTENDEES

$175 for Bride Bag

3,500 pieces required

Booking Deadline: Dec 28, 2021

Drop Off Deadline: Dec 30, 2021

June 2022

ONE DAY ONLY!

6,500
ATTENDEES

$175 for Bride Bag

2,500 pieces required

Booking Deadline: May 19, 2022

Drop Off Deadline: May 23, 2022
All literature must be dropped off directly with Gompers Habilitation before each deadline.
GOMPERS HABILITATION
5340 W. Bethany Home Road
Glendale, AZ 85301
Gompers is open Monday through Friday 7:30 AM – 3:30 PM. Please drop your pieces off at the front lobby and mention
the Arizona Wedding Show. Pieces dropped off/delivered after the deadline will NOT be accepted unless arrangements
were made in advance. Exhibitors who have not paid for the bride bag will NOT be inserted into the bride bag.
·

·

·

·

·

·

·

CALL TODAY!

·

·

·

·

·

·

·
480.236.7987
stephanieg@MPEshows.com