Welcome to the Wedding Gallery – a source for inspiration, ideas and advice for our brides and grooms.
Arizona Bridal Source
Arizona Bridal Source magazine is a 64 page 4 color available for FREE download at ArizonaBridalSource.com. Tons of tips, ideas, and trends to help you plan your wedding.

Brilliant Bridal's 5 Favorite Gowns
Brilliant Bridal specializes in selling designer bridal gowns at a brilliant savings. Take a look at these gorgeous wedding gowns and watch the video to find out how you can get 25% off your purchase. Brilliant Bridal has two locations in Arizona.

ETHAN BEAZLEY PHOTOGRAPHY
Ethan Beazley of Ethan Beazley Photography shares his recommendation on wedding ceremony timing.
ETHAN BEAZLEY PHOTOGRAPHY
Ethan Beazley of Ethan Beazley Photography shares his insights on wedding DJs.
Amy Bridal
June, manager of Amy Bridal, gives us a quick tour of the store and shows us some of the lovely wedding dresses that are available for purchase or to rent. For more information, call 480.782.6809.
ARIZONA'S FINEST WEDDING SITES AND SERVICES
At Arizona's Finest Wedding Sites and Services Website and Magazine, our passion is connecting engaged couples to wedding venues and professionals that will deliver the wedding of their dreams!
Our local wedding magazine is filled with top wedding professionals, along with real Arizona weddings and content that is sure to inspire you! Download a complimentary copy of our digital magazine today!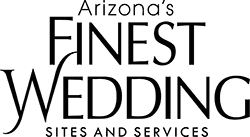 American Furniture Warehouse (AFW) has been bringing you the best prices and widest selection of furniture and home decor since 1975! Whether you're looking for traditional, contemporary, or modern designs, shop online or stop by in-store for affordable furniture that fits your lifestyle.

THANK YOU TO OUR SPONSORS & PARTNERS: